5aOHP is a top of the line legal prohormone that will convert to Stanolone! 5aOHP is one of the first progestin prohormones and people are absolutely loving it. The best part about progestins is NOT ONE CASE OF GYNO reported, just solid gains of lean mass! You can put the rumors to rest, progestins prevent gyno, they don't cause it! Progestins promote muscle growth!
The best part about the active ingredient in 5aOHP is that it gives you dry, solid gains with virutually no negative side effects. The best reported benefits by testers are the body composition changes which rival the most potent illegal compounds. Because 5aOHP does not convert to estrogen, the gains are free from bloating estrogenic effects. Hundreds of thousands of bottles sold of progestin based hormones with ZERO estrogenic side effects! Case closed! Just to keep the complainers down we put in a potent AI to reduce estrogen!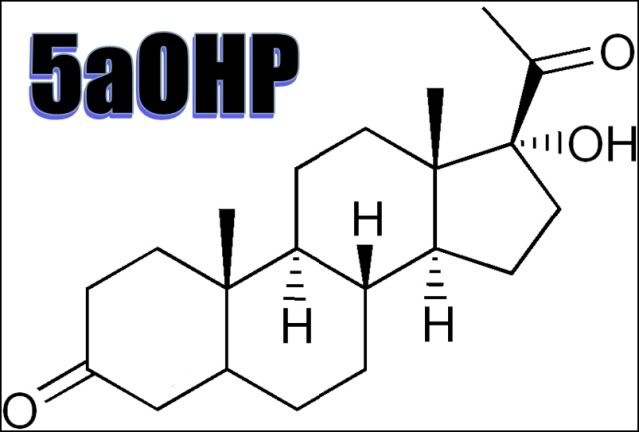 Progestins, specifically 17aHydroxyProgestins convert to other androgens, can act as prohormones AND biologically active hormones! This means that 5aOHP will have a double effect for people looking to gain MASS. It may be active on its own and also will convert down to Stanolone a prized hormone for men looking to restore their vitality and counter the effect of these environmental chemical estrogens!
Finally, we added our special oral delivery system and the most POTENT LEGAL MASS BUILDER was born!!!
Active Ingredient: 17a-Hydroxy-Pregnane-3,20-Dione

How To Use:
Shake Well: 4-6 Weeks of 5aOHP at 4-8 doses per day split up. Use the convenient oral syringe to place 1ml under your tongue hold for 60 seconds, then swish the liquid delivery system in your mouth for 60 seconds coating the entire mouth and swallow completely. MUST BE 21 TO USE!

· What about PCT?
A PCT is strongly reccomended. We suggest you also get a bottle of Post Cycle Therapy for use following your bottle of 5aOHP. This will allow you to keep your gains that you worked so hard for, as well as allow you to MAKE MORE gains after!